October 5, 2018
No trip to Hungary would be complete without a trip to its marvellous countryside. First stop is a couple of nights in Holloko, a Unesco world heritage site. It's famous for its Palóc culture and traditions, as well as its 14th century castle.
THE VILLAGE
I arrive and begin to scout out the surroundings. It appears that the small main high street meanders westwards down a gentle slope. The last of the tour buses have left and, like a host that is pleased to receive guests yet glad to wave them goodbye, the village seems to have reclined comfortably into the hillside. It's very very quiet. As daylight wanes, the brilliant-white painted walls of the traditional houses glow with honey hued freckles of pale warm light.
THE CASTLE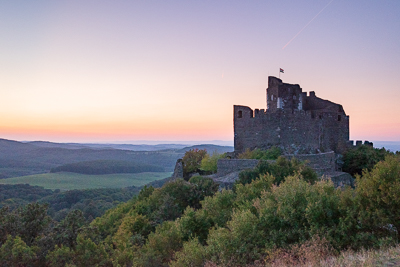 At the top of the hill, a few hundred yards from the houses, stands the castle in a prominent position on the Cserhát Mountains. The vista is incredible. Gentle rolling hills abound for miles. Just before twilight triggers the castle lighting, the sun hovers atop, scattering peach and plum hues over the valley.
LOCAL ARTISTS
In the morning, I'm greeted by villager and fellow early-morning dog walker Anna. She's an artist working in bronze and kindly invites me to her studio. On the veranda lies a 6 foot wide replica of a village in wax. Her husband, also a bronze worker, is scrupulously making minute adjustments to the landscape. I admire his gentle patience and absolute attention to detail.
Her speciality is dogs and her studio is overflowing with three inch high models. She tells me how she makes the casts from wax before filling them with molten bronze. A row of Labradors gaze up at me. She has captured their essence, their soul, those adorning eyes that speak of devotion and loyalty. They are marvellous replicas of the most marvellous dogs.
I'm sad to leave the little village and I would love to return at Easter when the villagers dress up in traditional costume and the men soak the women in water as part of a fertility ritual.